Hello Children's Policy Council Leaders,
I want to make you aware of some outstanding things that some of the CPC's have done or have been recognized for in October 2016. Some of the pictures and news articles are attached.
Lowndes County Children's Policy Council (Judge Adrian Johnson, Chair) "Character in Action Celebrates Youth" was the title of the newspaper article in the Lowndes Signal that recognized 11 Lowndes county Character in Action student award winners on September 29, 2016. The Character in Action program is sponsored by the Juvenile Court of Lowndes county and it recognizes Lowndes county youth under the age of 18, who make a positive contribution to their home, school or community above and beyond normal. The award ceremony featured speakers; Myaira Coleman, Central High School valedictorian who spoke on character, "attendance in school gets one to the top but character is what keeps you there" and Comission Chairman Carnell McAlpine offered words of encouragement. The students also had dinner and each was awarded a medal of honor. This was an joyous occasion for students, their parents, the Sheriff and District Attorney. (The News article is attached)
Autauga County Children's Policy Council (Judge Joy Booth, Chair) On October 3, 2016 the Autauga CPC Health committee hosted a Nutrition and Fitness activity event for 500 3rd and 5th graders at Daniel Pratt Elementary in Prattville, AL. A nutritionist and a YMCA fitness trainer was onsite to speak to the children about making good food choices, healthy foods vs. non healthy foods, how to make a healthy plate, showed them foods that they should eat for good nutrition and correct portion sizes. The children also did fitness competitions and won prizes for their participation.
In addition, On October 24, 2016 the Autauga CPC Safety Committee hosted a program during Red Ribbon Week promoting child safety, the dangers of drugs, and positive relations with law enforcement. Josh Johnson from WSFA spoke, along with Dean Argo from the ABC Board, and Corporal Thornton with the Alabama Law Enforcement Agency. The meeting was held at 9 am at the Prattville High School Gymnasium, 900 6th grade students attended from schools across Autauga county; Prattville Intermediate, Marbury Middle, Autaugaville, Billingsley, Prattville Christian Academy, and Autauga Academy. Also in attendance were many Prattville Police Officers, Autauga county Sheriff's deputies, and other members of the CPC.
Covington County Children's Policy Council (Retired Judge Frank "Trippy" McGuire, Chair) On October 4, 2016 the Covington CPC held its Workforce Development and Safety forum. Over 75 people traveled from across the state to learn more about how drugs impact our workforce. "10% of the people in the work place is struggling with an issue" quoted, Sgt. Dale D. Quigley one of the speakers at the forum. Jo McGuire, speaker shared with the group that "Marijuana is the most widely abused drug in America and the most misunderstood". Alabama ranked #50 in last place as compared to Colorado ranking at #1 for marijuana use among 12 to 17 year olds.
Colbert County Children's Policy Council (Judge Chad Coker, Chair) The Colbert CPC Health and Safety Committee hosted," Operation Save Teens," drug awareness event on October 19, 2016. There was 150 people in attendance, the audiencewas made up of teenagers, church youth groups, school leaders, parents, and some law enforcement officers. The speaker, Mike Reese, retired from the Alabama Beverage Control Board. He did a phenomenal job with keeping the audience attention and educating them. Advocates Mr. and Mrs. Letsinger were in attendance. They had lost their son, Landon, to an overdose of synthetic marijuana. Landon's Law, is named in honor of their son and it has helped to increase efforts to crack down on synthetic drugs in Alabama. Mrs. Letsinger spoke to the youth about the dangers of drugs, feeling invincible, thinking this cannot happen to me and how using drugs one time can lead to death. Then she shared her son's moving and emotional story. Twenty area businesses donated door prizes .i e. restaurant gift cards, an ENO hammock, and $100 MasterCard Gift card. Door prizes were given out after the presentation. A local church and daycare center also provided hotdogs, chips, cookies, and beverages to those in attendance. One of the best things, other than the level of awareness it produced, was how low cost it was to develop.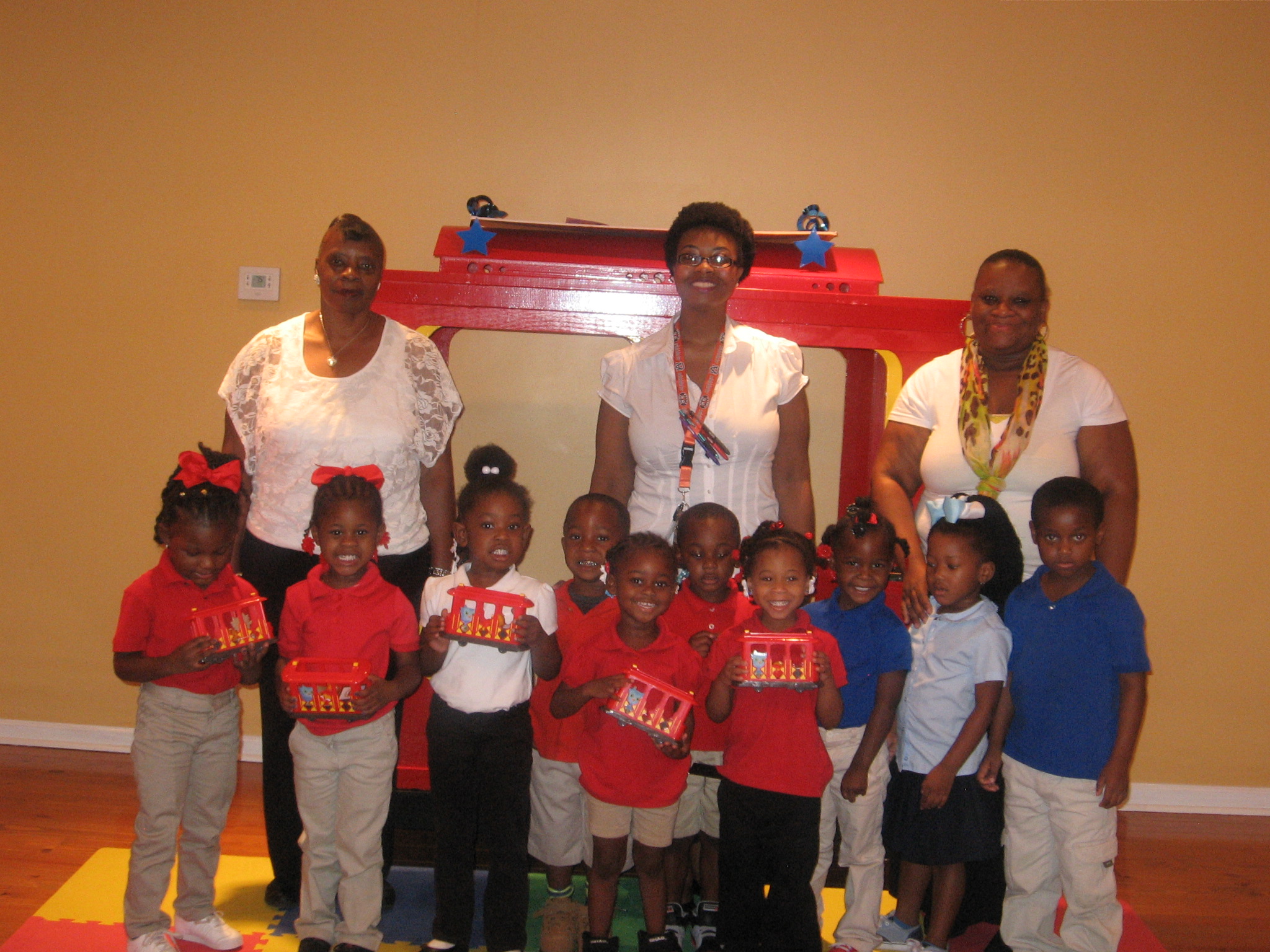 Sumter County Children's Policy Council "Children of the Village Network" (Judge Tammy Montgomery, Chair) On October 20 ,2016 the Sumter CPC "Children of the Village Networkhosted a movie day for 36 preschool students. The children enjoyed a wonderful video by PBS Kids, entitled "Daniel Tiger Goes to School" and "Daniel Tiger Big Brother". The videos were educational and fun to watch. The students participated in educational games and activities after the movie. Each student received a Daniel the Tiger T-shirt, book, cupcake, photo to share with their family and other trinkets.
Lauderdale County Children's Policy Council (Judge Ben Graves, Chair) The Lauderdale CPC hosted a Healthy Relationships Workshop on Friday, October 21, 2016 from 8:30 a.m. to 12:30 p.m., at Riverbend Center for Mental Health. The workshop topics were By Stander Intervention by Dr. Andrea Hunt, The Legal Consequences of Dangerous Relationships by Assistant District Attorney Will Powell, and Human Trafficking by Ms. Patricia McCay. 40 people came out to learn more about these meaningful topics and ways to implement them in their daily lives.
Lawrence County Children's Policy Council (Judge Angela Terry, Chair) The Lawrence CPC was featured in the Moulton Advertiser newspaper on October 27, 2016 for their luggage drive to benefit children in Lawrence county foster care. "The SuiteGrace Initiative is what the they are calling the luggage drive because the children in foster care can really use some grace bestowed upon their lives. At this time they have raised enough money to buy luggage and personal items for all 26 of the children who are currently in foster care. Most of the donations have come from churches, organizations, and individuals who were inspired by the article. The luggage drive will be ongoing. They are planning to buy extra luggage to have on hand to help children that may enter into the foster care system in the future. The suitcases may boost the foster child's confidence and give them something personal that they will be able to call their own. (Newspaper article is attached)
Wilcox County Children's Policy Council (Judge JoCeleste' Pettway, Chair) On October 30, 2016 the Wilcox CPC hosted their annual Defense fund, National Observance of Children's Sabbath. The goal of Children's Sabbath is to bring faith communities together in celebration by holding a community-wide worship service that include educational programs and advocacy activities to engage people of faith in improving the lives of children and families in their communities. The Wilcox CPC had three Children's Sabbath celebrations; at Star Hope district, Lilly Baptist church, Tri Church fellowship and the Bethel Association that touched the lives of 200 children and adults. Some of the activities and topics that were covered at the special events were Children's Sabbath awareness, Lollipops for Love, awareness and discussion about issues that are affecting children, (Self- Acceptance)" You are how you are because that is how God made you" Children's Policy Council awareness, Fun Day activities, Fellowship on the grounds, snacks, and they were happy to have 7 people from the event to joined and become members of the church.
Etowah County Children's Policy Council (Judge Joe Nabors, Chair) The Etowah CPC hosted an annual Fall Fest for Even start's children ages birth to 5 on Halloween Day, October 31, 2016 . The event was held at the Jack Gaston Coliseum from 9 am to 11 am. The CPC provided games, activities and prizes for 12 families. They had a balloon artist onsite that had made balloon animal designs for the children.